Prices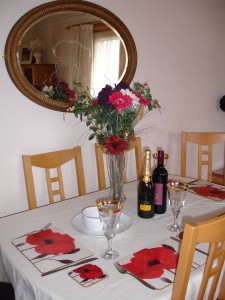 The weekly cost for renting 38 Westview Terrace will depend on the number of people staying, how many bedrooms are used, and the dates you require. The cost covers all linen, heating and lighting.
As a guide the weekly cost will be in the range £350 to £450 per week.
Please email us at enquiries1@westviewaccom.co.uk or phone on 07754711776 and let us know how many are in your party, whether you require the use of one or two bedrooms and the dates you will be visiting and we will give you an exact cost. Charges can also be discounted for long-term stays. We can offer family discounts.
A generous starter pack is provided (week long lets only) – ie breakfast. This will most likely be bacon, eggs, bread etc. If you have any special dietary requirements then please let us know when you are booking and we will try and meet your needs.
There is a broadband connection available at the flat. A charge of £10 for the week will be applied if the broadband is required.
A cot is available upon request.
If you are arriving in Stornoway on the late ferry and would like us to grocery shop for you before you arrive please let us know. You can send us your shopping list and we will stock up for you. There will be a small charge for this service, please call to discuss.
If you do not have your own transport it might be possible for us to meet you off the plane or the ferry and take you to the flat. Please enquire.